What are the considerations for using the city coco brake?

①Do not use lubricating oil around the disc brake and braking pads, as well as the calliper. Do not touch the surface of disc brake and braking pads with hands, otherwise braking performance will be reduced significantly.
②You'd better not shower a new brake to prevent a small quantity of lubrication grease in assembling clearance from contaminating braking pads.
③Oil hydraulic disc brake has strong braking force, you need to do much exercise at a safe place, so as to adapt to the difference from a common brake to avoid braking with too great force, resulting in injury due to wheel lockup.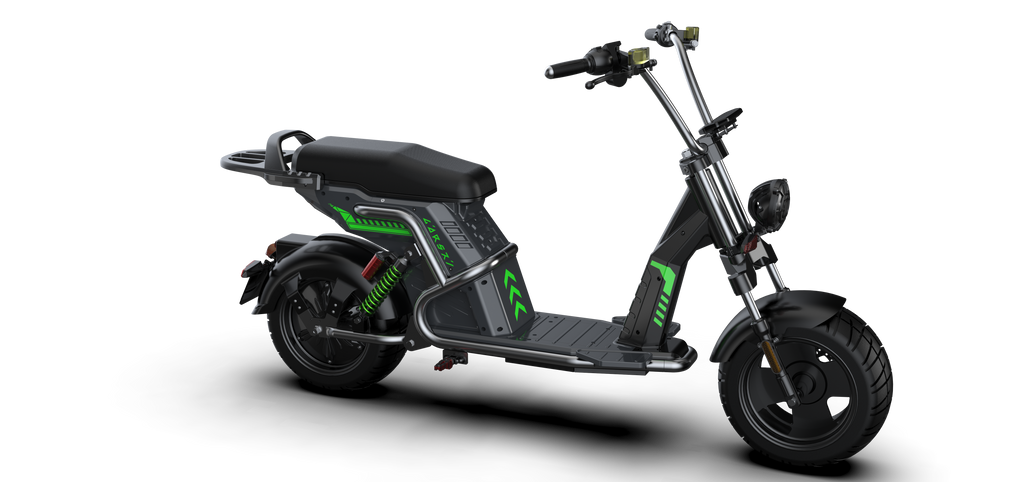 Main Technical Parameters:
I .Main technical parameters of the scooter:
| | |
| --- | --- |
| 1.Product Size: | 1962*318*1159mm |
| 2. Wheelbase: | 1482mm |
| 3. High: | 1159mm |
| 4. Weight: | 85kgs |
| 5. Tire specifications: | 215/40-l2 |
| 6. Maximum load:  | 180kgs |
| 7. Design top speed: | ≤85km/h (4000w) |
| 8. Range: | 40~120km |
| 9.Maximum torque: | 120N/M |
| 10.Maximum climbing: | ≤25 |
| 11.Braking performance(20 km/h): | Dry:≤1m;Wet:≤3m. |
II .Main technical parameters of battery: 
| | |
| --- | --- |
| 1. Battery type: |  Lithium batteries |
| 2. Capacity: | 20AH-60AH |
| 3. Nominal voltage: |  60V |
III . Main technical parameters of motor:
| | |
| --- | --- |
| 1.Motor models: |  Brushless dc motor hub |
| 2. Rated power: | 1500W/2000W/3000W/4000W |
IV . Main technical parameters of controller:
| | |
| --- | --- |
| 1. Current limiting protection value: |  70 + 1A |
| 2. Under-voltage protection value: | 48士0.5V |
V . Charger main parameters:
| | |
| --- | --- |
| 1.The input voltage(ac): |  100-240VAC50/60HZ |
| 2.The output voltage(dc): | 67.2~6.0A |
| 3. Charging time | 3-4 h |