Rooder
citycoco scooter 2000w rooder r804o
Regular price
$2,043.00 USD
Regular price
$2,784.00 USD
Sale price
$2,043.00 USD
Unit price
per
Sale
Sold out
please contact our whatsapp or email if sold out.
This Rooder r804o-eec updated from cp1.6 model.
1. updated the engine from 1500w to 2000w, but coc document is still 1500w.
2. max speed 60km/h, you can switch the speed between 45km/h and 60km/h via connect or disconnect the cable under pedal.
3. update the controller from 30a to 40a.
4. updated the power cables from 2.5 MM2 to 4 MM2, 2.24mm diameter
5. updated all the lights to LED.
6. updated the 2a slow charger to 5a fast charger.
7. updated the 3 pin connector 
8. updated the rear box for helmet or storage.
9. updated the package.
10. make it RONZLLA brand, for better after sale service and Marketing and Prices Protection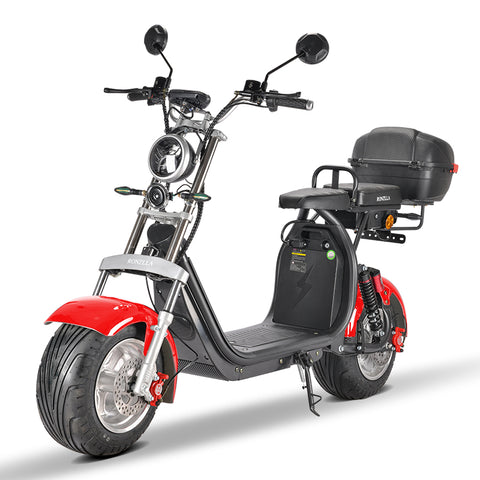 Specification:
Brand: RONZLLA
motor: updated 2000w
lithium battery: 60v20a, removable
Controller: updated to 40A 60km/h.
Cable: updated to 4 MM2, 2.24mm diameter
light: updated to ALL LED lights.
range: 40-60km
max speed: updated to 60km/h, can limit 45km/h
max load: 200kgs
max climb: 18 degrees
charger: updated to 5A fast charger
charge time:3-4h.
connector: updated
rim: 10inch
disc brake
Front and rear shock suspension
Front light/rear light/turning lights
Horn / speedometer / mirrors / rear box and back rest both included.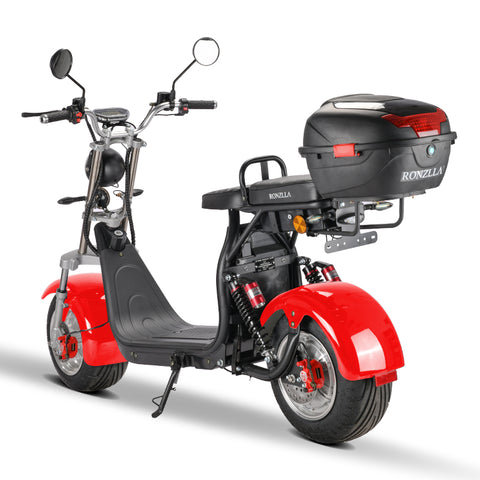 Rooder technology co., ltd. was established in 2010. After more than 10 years of development, it has become a high-end electric vehicle manufacturing enterprise integrating the research and development, production, sales and service of electric bicycles, scooters and other products.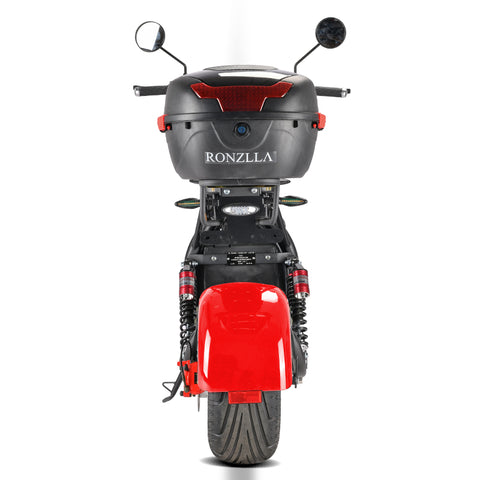 The company covers a total area of 27,000 square meters, with an annual sales volume of more than 60,000 units. It has more than 85 sales outlets and more than 10 high-standard image stores in China, and has become a global brand of high-end lithium electric vehicles. At the initial stage of its establishment, the company has always followed China's requirements for the development of green industry, and constantly used its own advantages to launch new products to meet the aesthetic needs of the majority of users.
At the same time, as the product technology continues to mature, practical products, fashion, economy, environmental protection is the purpose we always adhere to in the design and development process, in line with the mainstream consumer consumption characteristics and demand. In the development of the company through their own efforts to lead China's electric vehicle industry profound changes for the continuous development of China's green industry has played a positive role in promoting.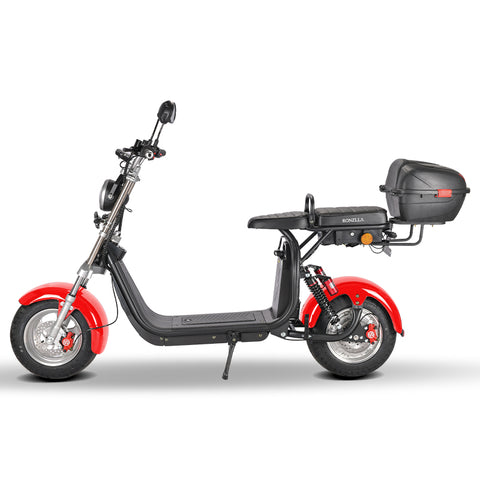 Rooder exports to more than ten countries, such as South Korea, Vietnam, Singapore and Russia, by virtue of its "products designed to make consumers feel happier" and by virtue of its beautiful design, higher technology, better quality, more refined manufacturing and better service. In the future, Roodertechnology will continue to promote the development of new energy transportation industry.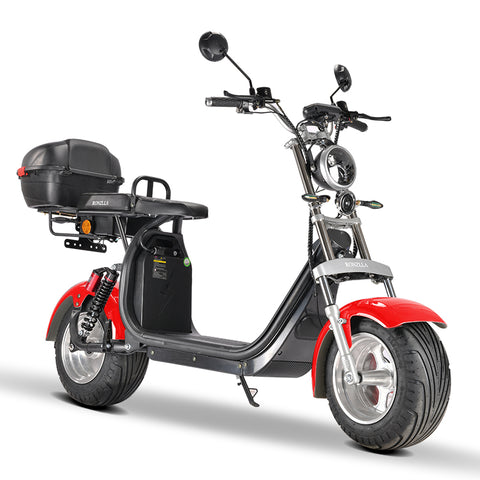 we have warehouses in Netherlands, Belgium, Poland and USA, we can ship these items from our warehouse directly, min order 1 piece to any countries of Europe and USA, 3-12 day to door after payment. please pay online diretly, for bulk order, please contact us to get wholesale price, whatsapp +8613632905138.
we have a pickup option available, after payment, we can make an appointment, and then you can collect the citycoco chopper, electric scooter, electric bicycle and electric motorcycle by yourself or by third party shipping logistics company.
we can also send these scooters to all over the world from China, Min order 5-10pcs. please contact us to get wholesale price.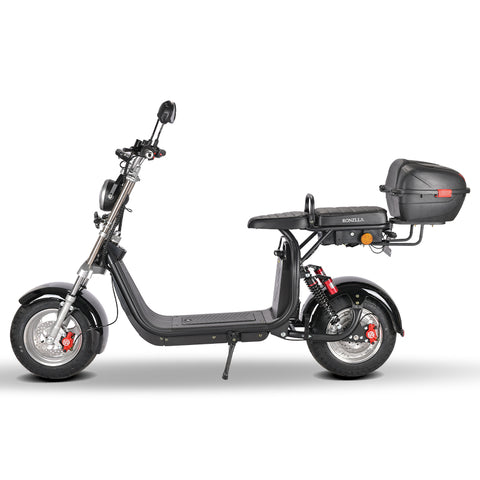 Company information:
Rooder Group has been in electric scooter industry for 10 years, which is factory focus on citycoco, electric motorcycle, eletirc chopper, balance scooter, and kick scooter. It has been exporting high quality electric scooter to all over the world, together earning a lot of good reputation. Rooder brand is representing high quality and good service.
Service:
1. OEM Manufacturing welcome: Product, Package…
2. Sample order is available form Europe stock or China
3. We will reply you for your inquiry in 24 hours.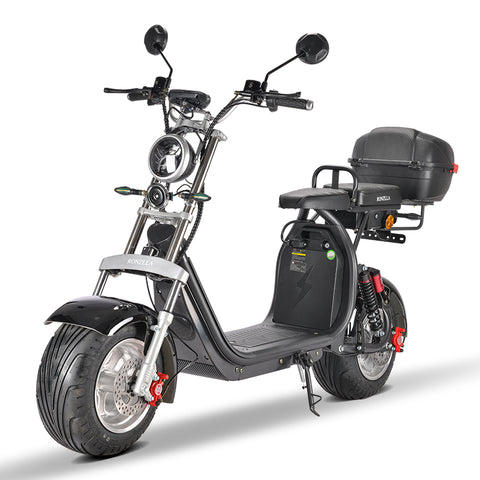 Certifications:
Rooder CE FCC ROHS certifications, EEC/COC certifications for citycoco scooter, electric scooter etc.
Video of citycoco scooter 2000w rooder r804o:
We can also custom it with your logo from China: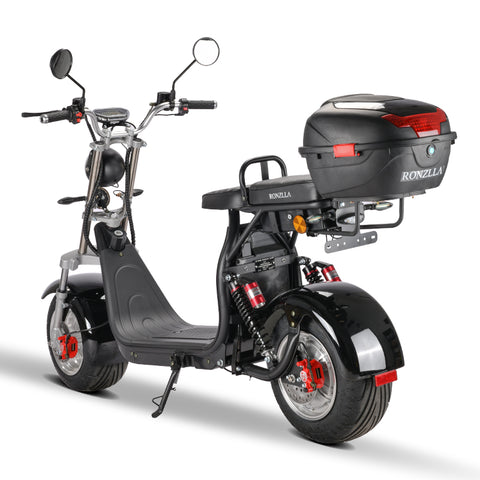 Share